Parking
Parking at Hay Days
Parking is available on neighboring properties (see map). Please note the SnoBarons do not own or operate these lots nor receive revenues for parking. Proceeds go to the landowners themselves as well as the county for the required permits.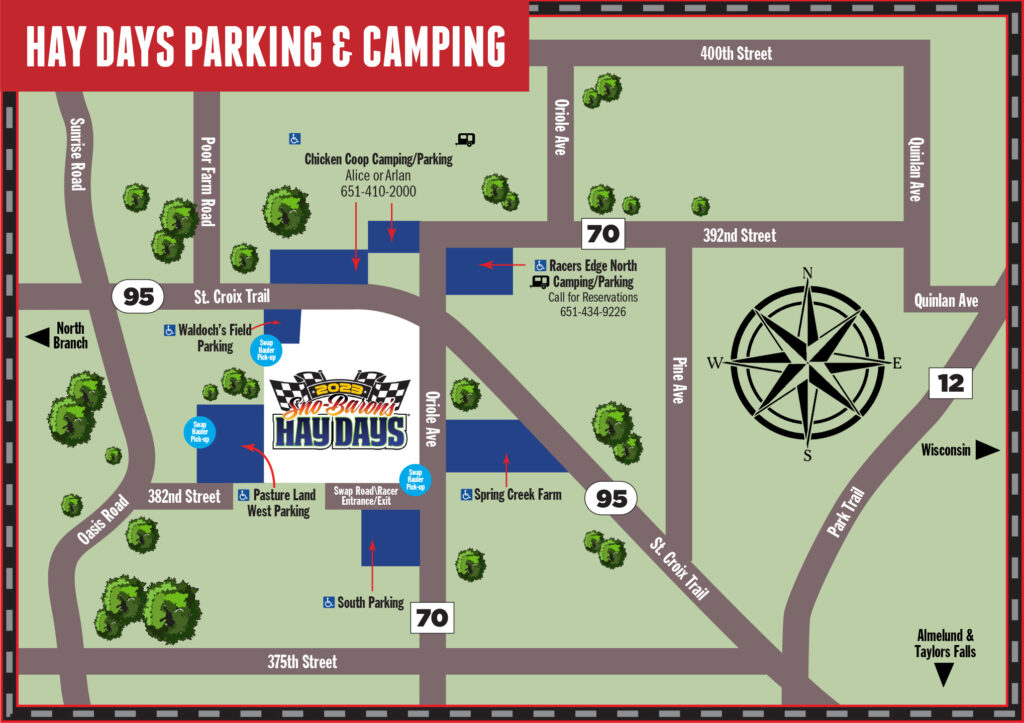 PastureLand West Parking
Located on west end of property and enter thru Spectator Gate 4.
Spring Creek Farm Parking
Located across Oriole Ave and enter thru Spectator Gate 1 or Gate 3.
Racer's Edge North Parking/Camping
Located across Highway 95 on Oriole Ave 1/4 mile. Enter thru Gate 1.
Chicken Coop Parking
Located just across Highway 95.
Swap Road South Parking
Adjacent to Swap Road.
Waldoch Parking
Located on NW area of property and enter thru Spectator Gate 5. Spectator Gate 5 is NEVER open Friday.
All parking lots have designated areas for handicap, ATV/UTV and motorcycles. Anyone wishing to sleep overnight in their vehicle Saturday night must do so at lots that allow camping.
Friday Information:
Please note that if you are a racer or swapper and parking outside the grounds Friday, the Waldoch Spectator Gate 5 is not open. The only open gates to enter or leave the property are Gate 2 (Swap and Racer entrance/exit and Gate 3). Parking for entire weekend will be available at the Swap Road South, Racer's Edge and Chicken